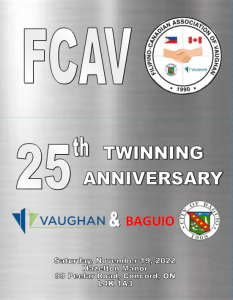 The Filipino-Canadian Association of Vaughan (FCAV) will be celebrating the 25th Anniversary of Twinning between the City of Vaughan (Canada) and Baguio City (Philippines). The event will take place at Hazelton Manor, 99 Peeler Road, Vaughan, ON., Canada on Sat., Nov. 19,2022, starting at 6:00 p.m. There will be a program, food, music, & entertainment. It will be an enjoyable and memorable evening.
The Friendship Agreement then called "twinning initiative" started on November 26, 1994 at the Association's Christmas party. Mrs. Maria Alvero, then Trade Commissioner, was the guest speaker and she spoke about trade and investments opportunities and expressed the Philippines' interest in strengthening cultural and economic ties between the Philippines and Canada. Her Worship, Mayor Lorna Jackson, was also at the party and she responded that the City of Vaughan is also interested in strengthening ties with cities in other countries, particularly those whose people have chosen Vaughan in which to live. Erlinda, president, Filipino Canadian Association of Vaughan (FCAV) pursued the twinning initiative and asked FCAV members to research for an ideal city following the criteria set forth by the Economic Development of Vaughan. The criteria included population, industry, transportation and communication. The city that best fitted the criteria was Baguio City, hence it was selected in May 1995.
Baguio City Councillor Virgilio Bautista visited the City of Vaughan and held an exploratory talk with Mayor Jackson and Vaughan Council in June 1996.
In November 1996, Baguio City Council passed Resolution #410 establishing a Sisterhood Relationship between Baguio City and the City of Vaughan.
Erlinda Insigne traveled to Baguio City and paid a courtesy call to Mayor Domogan and the Baguio City Council in December 1996. At that time, Mayor Domogan invited Vaughan Mayor Jackson to visit Baguio City.
On February 24, 1997, the FCAV, Erlinda Insigne, along with Consul General Santos of the Philippine Consulate and other Vaughan Filipino Associations, appeared before Vaughan Council and after questions and answers, a motion was unanimously approved to establish a
Friendship Agreement between Baguio City, Philippines and the City of Vaughan, Ontario, Canada. Consequently, Consul General Santos issued a press release.
On April 25, 1997, Vaughan Mayor Jackson and party traveled to Baguio City to sign the Friendship Agreement with Baguio Mayor Domogan. The signing was held at The Mansion House, summer home the Philippine president.
On October 30, 1997, Baguio City Mayor Domogan and party traveled to the City of Vaughan to sign the Friendship Agreement with Vaughan Mayor Jackson.
The "Friendship Agreement" otherwise called "Twinning" between the City of Vaughan, Canada and Baguio City, Philippines was the 1st Friendship Agreement between the governments of the Philippines and Canada in the province of Ontario. Its objective was to promote social, cultural and educational exchanges and economic opportunity between the two cities. The FilipinoCanadian Association of Vaughan (FCAV) is very proud to have been the catalyst for this historical achievement.
Since then and for the last 25 years, there have been official visits; educational student exchanges; participation in centennial celebration of Baguio City; yearly celebration of Philippine Independence in Vaughan known as Filipino Day; construction of the Twin City Monument Sign
in Baguio City; Sister City sign in Vaughan; Vaughan Fiesta Extravaganza to celebrate Filipino heritage; granting of a 20-year lease of Patricia Kemp Community Centre to FCAV; display of Baguio City products in Vaughan and the Philippine Canadian Friendship Parkette to mention a mention a few. Hopefully an MOU will be signed between University of Baguio and University of Niagara Ontario during Silver Anniversary of Twinning.
This year, in coordination with the Philippine Consulate in Toronto and City of Vaughan, FCAV will be celebrating the 25 years of Twinning. This is a significant and remarkable event to reflect the achievements of Twinning for the last 25 years. Consul General Orontes Castro of the
Philippine Consulate in Toronto pointed out that only few Twinning in Canada lasted 25 years.
305 total views, 1 views today