Published by Brian Capito, Vaughan Citizen
Friday, May 5, 2023
The City of Vaughan sh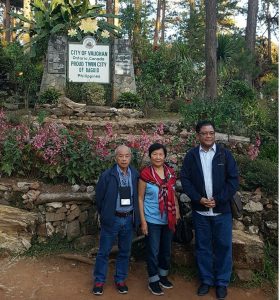 ares a unique bond with a city in the Philippines.
North of Manila, there is a city in the mountainous region of Cordillera called Baguio that shares a kindred spirit with Vaughan's population.
The city of Baguio's ties with Vaughan are what is called a twin-city or friendship agreement between two cities of roughly the same population.
Baguio was picked to twin Vaughan due to its population, industry, transportation and communication.
The friendship agreement or "twin-city" main objective was to promote social, cultural and educational exchanges as well as economic opportunities.
A highly urbanized city, the city of Baguio has six universities and is an attraction for locals and international travellers alike.
Speaking with local Vaughan resident and president of the Filipino-Canadian Association of Vaughan Erlinda Insigne, the Vaughan Citizen explored this relationship.
"It means a lot to us because it actually brings Filipinos closer to each other, knowing that the city of Vaughan is a sister city with the Philippines," said Insigne. "Many Filipinos come here to Canada, if they know or they hear that the city of Vaughan is a sister city of one of the cities in the Philippines. Nevermind Baguio. They come here to live."
At the end of May, city councillors from Vaughan are expected to pay a visit to the locale.
In 2022, the City of Vaughan and Baguio celebrated 25 years of being twin cities.
"The friendship is the first of its kind between the government of the Philippines and Canada in the province of Ontario," said Insigne.
According to the 2021 census data for the City of Vaughan, Filipino people account for nearly two per cent of the visible minorities in the City of Vaughan.
"I have had a close relationship with the Filipino community in Vaughan for over a decade when we worked together to help achieve a long-term lease for the Patricia Kemp Community Centre, which hosts the FCAV (Filipino Canadian Association of Vaughan) on Dufferin St. just north of Centre St," said local city councillor Gila Martow, who will be attending the trip to Baguio the last week of May.
"The City of Vaughan is keen to build on the positive relationship our cities have shared over the past 25 years," added Martow.