Vaughan Fiesta Extravaganza (VFE) 2021
Join us for FUN, non-stop ENTERTAINMENT, and lots of GIVEAWAYS!
This year, once again, due to COVID-19, we are celebrating VFE Virtually on Saturday, July 17, 2021 from 4:00 to 8 PM ET.
Vaughan Fiesta Extravaganza 2021 is a summer event that celebrates Filipino Heritage in Ontario and across Canada that promotes multicultural awareness and appreciation of Philippine heritage. This is one way of recognizing the achievements of the Filipino Community that has contributed to the social and economic fabric of Canada. This year's celebration is dedicated to the Quincentennial Commemorations of the Philippines.  It should be noted that the City of Vaughan is a sister city of Baguio, Philippines and home to around 15,000 Filipinos and a growing Filipino community.
The event will be broadcast live from MCBN Broadcast Centre, Patricia Kemp Community Centre (PKCC) 7894 Dufferin Street, Vaughan, ON. Canada, L4K 1R6. PKCC is home of the Filipino-Canadian Association of Vaughan (FCAV). The celebration will be Streamed Live in all MCBN digital platforms.
The main highlights of the festival are: Non-Stop Entertainment and Musical Extravaganza, Cultural Heritage Exhibits, Cultural Dance Presentation, featured Celebrity Guests, Games and more!
We are bringing together Filipino artists and cultural groups from Canada that will showcase Philippines' best in a virtual venue in the City of Vaughan.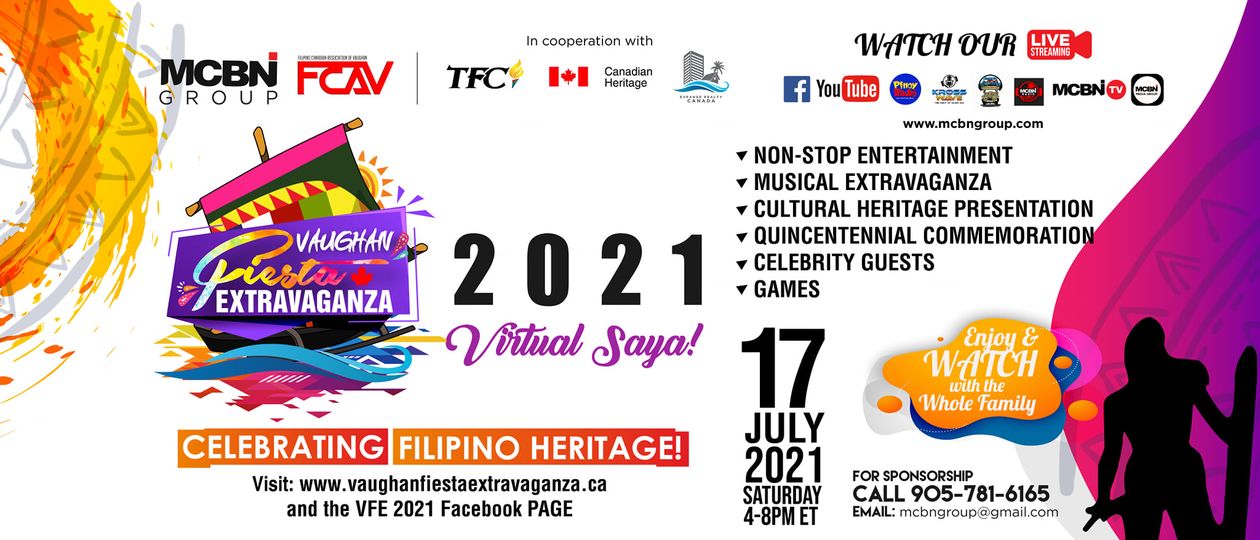 For more information, please visit: www.vaughanfiestaextravaganza.ca; www.fcav.ca; PinoyRadio.Com; www.facebook.com/fcav.assn or call : 905-781-6165 (Von); 647-395-4503 (Joey );416-670-4498 (Erlinda).