The Filipino-Canadian Association of Vaughan (FCAV) and BIBAK jointly organized a fundraising event to be held on Saturday, October 20, at 6:30pm, Patricia Kemp Community Centre (PKCC), 7894 Dufferin St., Vaughan.
The fundraising event entitled " Bangon Kordelyera – Hope for Itogon"  is in conjunction with the 21st Anniversary of the Twinning between the City of Vaughan and Baguio City, Philippines. It includes Dinner-Dance, Silent Auction and Raffle Draw.
All donations will go to the victims of Typhoon Mangkhut / Ompong in Itogon, Benguet province. Proceeds from the ticket sales will to go fixing PKCC gym roof.
FCAV  is a not-for-profit organization founded in 1990 to promote community spirit among Filipinos, assimilate Filipino culture and values into the Canadian society and participate in civic and social events within the community. FCAV was instrumental in the realization of Friendship Agreement between City of Vaughan, Canada and Baguio City, Philippines.
BIBAK is a community-based organization of Filipino Canadians in Ontario from the 5 provinces of the mountainous Cordillera Region, namely,  Benguet, Ifugao, Bontoc, Apayao and Kalinga. Philippines.
 Among the BIBAK provinces, Itogon which is located in Benguet incurred the most number of casualties. It was reported more than 100 people dead caused by the landslides and many more wounded, injured, missing, and houses damaged.   Most of the people killed were miners and 80% came from Ifugao. Their families and relatives have camped at the foot of the mountain refusing to leave until they bring home their body of their loved ones. 
 Should you or your organization wish to donate and support the event, please refer to the attached Flyer and click to the links:
General Admission – Dinner Dance sale tickets link
Donation only link – this is for people who might not be able to attend and just want to donate.
Likewise, please visit: www.fcav.ca and/or www.facebook.com/fcav.vaughan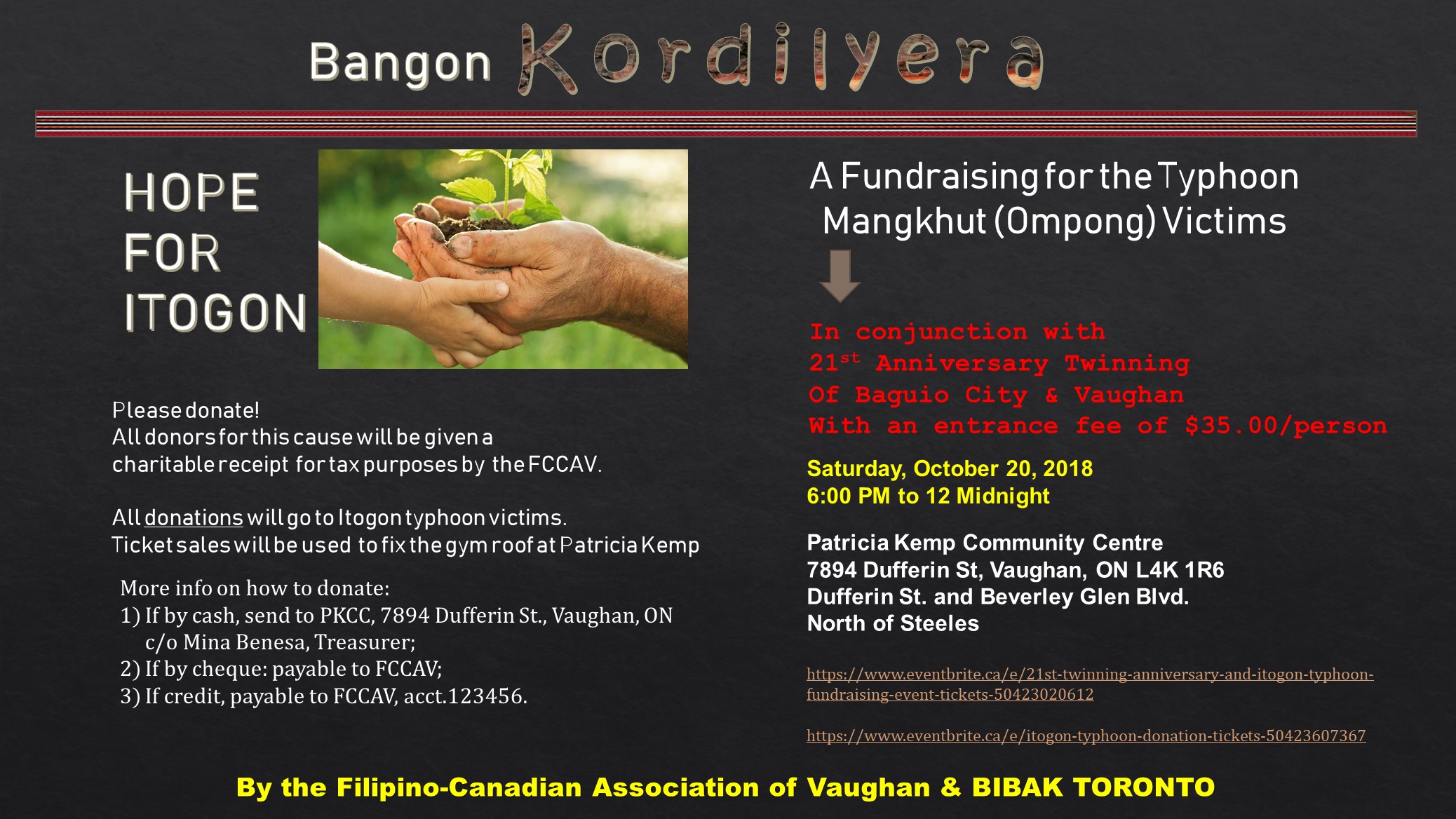 Thank you.