The Filipino-Canadian Association of Vaughan (FCAV) is hosting a B2B Spring Event on Saturday,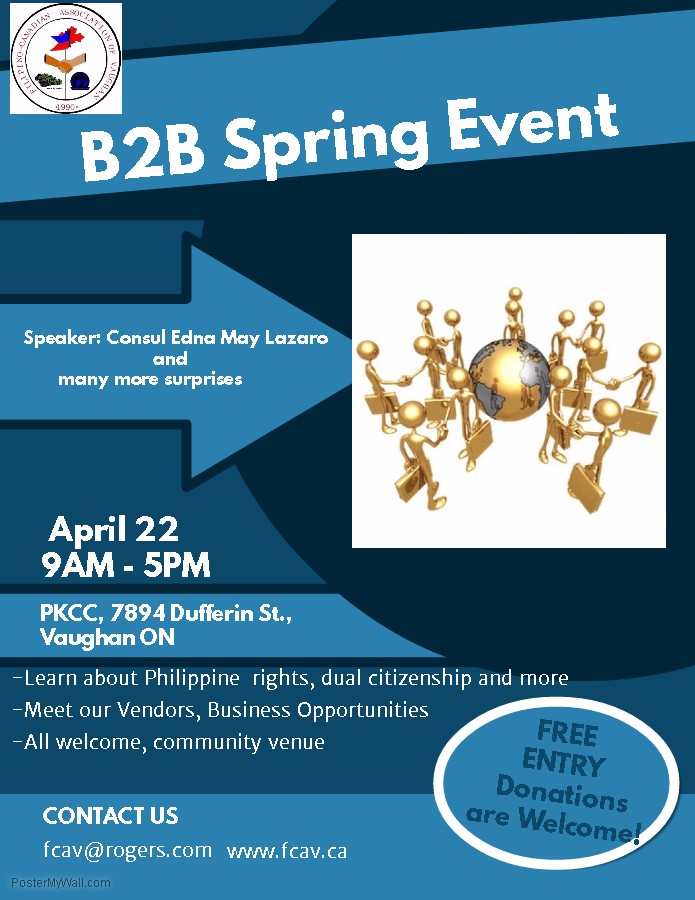 April 22, 2017, 9 a.m. – 5 p.m., Patricia Kemp Community Centre, 7894 Dufferin Street, Vaughan, ON, L4K 1R6.
It is an opportunity for anyone to promote his/her business. There will be vendors selling products like Filipino food (siopao, siomai), clothing, jewelry, health products, real estate, mortgage, financial planning, networking, etc.
Speaker:  Consul Edna May Lazaro, Philippine Consulate, Toronto
Topics include: Philippine Rights, Dual Citizenship, Business Opportunities and more.
Bring your family and friends. Cost is FREE.
Please share with friends: Facebook, Facebook Messenger, LinkedIn, Twitter, email.
For more information, please contact:
Erlinda Insigne, email: fcav@rogers.com, phone: 905-881-4600, cell: 4166704498
Deanna Patawaran, email: dpatarawan@springhillsuite4svaughana.com